Modern glass partition walls for homes that illuminate your living
Glass partition walls emerged as a gripping trend for modern home design, stylishly combining usefulness and beauty. In this blog, We will discuss how they provide a sense of openness and allow natural light to flow through, creating distinct areas.
The Benefits of Modern Glass Partition Walls
Modern glass partition walls are appealing because of their capacity to bridge the gap between separation and illumination By adding these structures to your living spaces. You get several advantages that change how you view and interact with your surroundings.
Openness and visual connectivity
Glass partition walls for homes break down the barriers that traditional walls create, allowing for a continuous visual flow between distinct areas. This openness promotes oneness while maintaining the division of space.
Maximizing natural light
Because glass barriers are transparent, they transform your home into a well-lit sanctuary. These walls remove shadows and offer a visible brilliance to every space by enabling natural light to permeate through.
The modern and clean aesthetic
The glass partition walls' sleek lines and modern appeal contribute to modern design. They effortlessly integrate beauty and elegance into the decor of your home.
Design and customization
Many options vary with glass walls, whether you select frameless elegance or a framed statement. You can customize the style and functionality to fit your specific vision.
Making your living areas bright 
Glass partition walls transform any area into a shining paradise by allowing sunlight to pass freely through them. Natural light is essential for improving mood, increasing productivity, and creating a welcoming environment for residents and guests.
Design flexibility and variability
Step into the world of glass partition walls. And you'll discover a world of creative possibilities. You have different options for Choosing Frameless designs with minimalist elegance or framed constructions with architectural details. Furthermore, a choice of glass, either clear, frosted, or textured, Allows you to achieve the ideal combination of openness and privacy. Sliding doors and other elements can improve the operation and aesthetics of these partitions.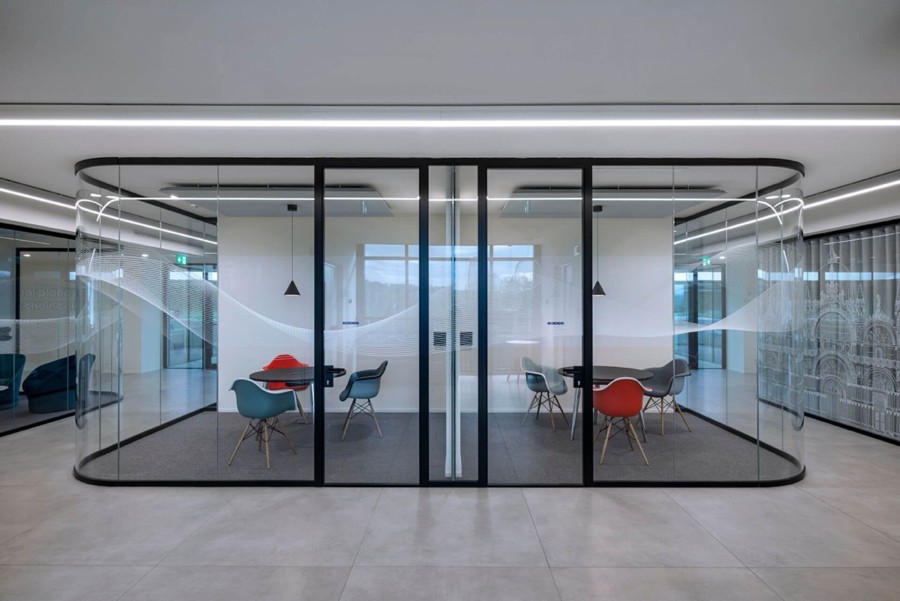 Interior Design Applications: Glass partition walls for homes
This adaptability of glass partition walls for a home knows no restrictions, fitting perfectly into diverse living spaces.
Living and dining rooms: Divide these areas using glass partitions to maintain an open feel while separating their separate functions.
Home Offices and Workspaces: Glass partitions enable distinct work zones inside larger rooms, boosting focus without compromising connectivity.
Glass walls in bedrooms and ensuite bathrooms: Offer a touch of modern luxury to bedroom layouts, specifically when used to divide sleeping quarters from ensuite bathrooms.
Kitchens and Dining Zones: Glass partitions maintain the connection between the cooking and dining areas, making meals an opportunity for conversation.
Considerations for Taking Action
Consider the following practical issues before adopting the brightness of glass partition walls for homes.
Privacy Needs: Determine the appropriate level of privacy for each location to influence your glass selection.
Maintenance and Cleaning: To maintain the transparency that defines glass partitions, incorporate frequent cleaning into your routine.
Safety Considerations: Consider safety glass, such as tempered or laminated glass, to emphasize the well-being of your family.
Design Tips for Including Glass Partitions
Use these design techniques to make the most of your glass partitions.
Complement Simple Decor: Combine the elegance of glass partitions with simple furnishings for a balanced, non-overpowering aesthetic.
Place partitions Properly: To provide for excellent light distribution and a sense of unity.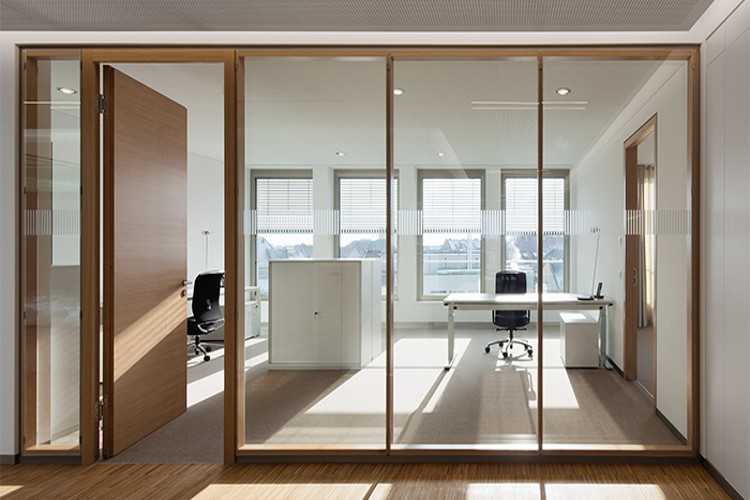 Frequently Asked Questions (FAQs)
Q.1 What are glass partition walls for homes?
Glass partition walls for homes are semi-transparent or transparent panels used to create separate spaces within a living area. They offer a balance of privacy and openness while allowing natural light to pass through.
Q.2 What are the benefits of using modern glass partition walls?
Modern glass partition walls offer several advantages, including creating visual connectivity between spaces, maximizing natural light, adding a modern and sleek aesthetic, and providing design flexibility and customization options.
Q.3 How do glass partition walls enhance the illumination of living spaces?
Glass partition walls allow sunlight to flow freely, transforming rooms into bright and inviting spaces. The transparent nature of these walls eliminates shadows and contributes to a well-lit and uplifting atmosphere.
Q.4 Where can glass partition walls be applied within a home?
Glass partition walls for home use in different parts of a Home. Including living rooms, dining areas, home offices, bedrooms, ensuite bathrooms, and kitchens. They help maintain open layouts while defining specific functional zones.
Q.5 What should I consider before installing glass partition walls in my home?
Before installing glass partition walls, consider these factors such as your privacy needs, maintenance requirements, and safety considerations. Determine the level of privacy required for each area, incorporate regular cleaning routines, and opt for safety glass options like tempered or laminated glass for added security.
Conclusion
Modern glass partition walls for homes are more than physical divisions; they are light carriers and atmosphere makers. By accepting these adaptable installations, you're embracing a design approach that values transparency, illumination, and modern elegance. Allow the magical appeal of glass partition walls to illuminate your living space.
Other Articles