Top 10 Furniture Designs for a Modern and Comfortable Living Room
The living room is the main focal point of the home. And the furniture plays an essential role in creating a modern and comfortable room. In this blog, we'll look at the top ten furniture designs for a Modern and comfortable living room that may turn your home into a fashionable and cozy haven.
Understanding Modern Living Room Furniture
Sleek lines, simple designs, and a focus on functionality define modern and comfortable living room furniture. It's all about creating clean, Simple designs that display beauty and comfort.
Factors to Consider When Choosing Furniture
Before we go into our top picks, it's essential to consider several factors when selecting living room furniture. By carefully evaluating your needs and preferences, you can make informed decisions that lead to a more harmonious living space:
Space: Begin by measuring your living room to determine the space for furniture placement. It is essential to check that the pieces you choose fit comfortably without overcrowding the room. Modern furniture prioritizes space efficiency, making it ideal for smaller and larger living areas.
Budget: Define your budget range early in the process. Modern furniture can vary widely in price, so having a clear budget Plan will help you narrow your options and prevent overspending.
Personal Style: Consider your Personal style preferences when selecting furniture. There is a modern furniture style to suit your taste, whether you prefer the clean lines of contemporary design or the timeless beauty of mid-century modern.
Top 10 Furniture Designs
Sofas and Sectionals
Sofas and sectionals are the focal points of every living room, providing both style and comfort. For a modern touch, choose clean lines and high-quality fabric. Modular sectionals, in particular, provide flexibility and adaptability to different room layouts, making them a popular choice.
Coffee Tables
A coffee table not only adds functionality but also a touch of elegance. Look for one with unique design elements or storage options, such as built-in shelves or hidden compartments. A glass or acrylic coffee table can lend an airy feel to the room, creating an illusion of more space.
Accent Chairs
Accent chairs provide a pop of color and style. Mix and match different designs for a modern and comfortable living room look. Consider chairs with unique textures or bold patterns to make a statement in your living room. Upholstered chairs with wooden or metal accents often epitomize modern aesthetics.
Entertainment Centers
A modern entertainment unit can streamline the appearance of your living area while keeping all of your electronics organized. Look for ideas that combine open shelves for exhibiting attractive objects with closed storage for hiding clutter.
Bookshelves and Storage Units
Bookshelves and storage units keep your living room clutter-free while showcasing your favorite books, art pieces, and collectibles. Choose open shelves for a minimalist look or closed cabinets for a streamlined appearance. Wall-mounted units can save floor space and create a floating, contemporary effect.
Rugs and Carpets
A well-chosen rug or carpet can tie the room together, providing warmth and defining different seating areas within an open-concept living room. Opt for a design that complements your furniture and adds a touch of luxury to your living space.
Lighting Fixtures
Lighting fixtures are essential for setting the mood and highlighting your furniture's design features. Pendant lights and floor lamps can be stylish and functional. Consider fixtures with dimming options to create various ambiance levels in your living room.
Wall Art and Decor
Add a personal touch with wall art and decor. Opt for contemporary pieces that resonate with your style, whether abstract paintings, geometric wall sculptures, or minimalist prints. The right wall art can serve as a focal point and conversation starter.
Side Tables
Side tables provide convenient surfaces for drinks and snacks. Look for unique designs that complement your sofa and accent chairs. Modern side tables often feature mixed materials, such as metal and glass or wood and metal, adding visual interest to your living room.
Throw Pillows and Blankets
Throw pillows and blankets add coziness and style to your living room. Mix textures and patterns for an inviting atmosphere. Consider introducing pops of color through your pillows and blankets to create a vibrant and dynamic look.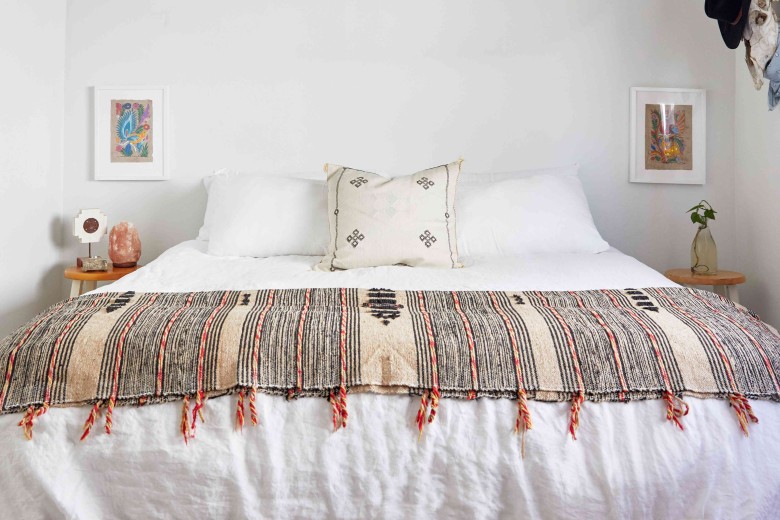 Tips for Arranging Furniture
Once you've selected your furniture, follow these tips for arranging it in your living room to optimize both functionality and aesthetics:
Create a Focal Point: Position your sofa or sectional around a focal point, such as a fireplace or TV. It enhances visual appeal and helps define the room's purpose.
Balance and Symmetry: Maintain balance and symmetry in your furniture arrangement. For creating a Modern and comfortable living room,  For instance, if you have a large sectional on one side of the room, balance it with a cluster of smaller accent chairs or side tables on the other.
Traffic Flow: Ensure enough space for easy movement through the room. Avoid overcrowding the pathways between furniture pieces to maintain a sense of openness and accessibility.
Maintenance and Care
To keep your modern living room furniture looking its best, follow these maintenance and care tips:
Regularly vacuum and clean fabric: Dust and dirt can accumulate on upholstered furniture over time, affecting its appearance. Regularly vacuum and spot-clean upholstery to keep it looking fresh.
Use coasters to protect surfaces: Whether you have a coffee table or side tables, using coasters for drinks and decorative items can prevent water rings and damage from heat.
Dust and polish wooden furniture: If you have wooden furniture pieces, dust them regularly to prevent the buildup of dust and debris. Use appropriate wood polish to maintain their natural luster.
Rotate cushions and pillows: To ensure even wear and maintain the shape of Cushions and Pillows, consider rotating them regularly. This simple practice can extend the life of your furniture.
Budget-Friendly Alternatives
If you have a limited budget, don't Worry, There are still many ways to achieve a modern and comfortable living room look. 
Second-hand Furniture: Consider exploring thrift stores, consignment shops, or online marketplaces for pre-owned modern furniture pieces. You might stumble upon hidden gems at budget-friendly prices.
DIY Projects: Creative with DIY furniture projects to customize your living room. From repainting old furniture to crafting unique decor items, DIY projects can add a personalized touch to your space without breaking your budget.
Frequently Asked Questions
Q1 What defines modern and comfortable living room furniture?
 Sleek lines, simple designs, and a focus on functionality characterize modern and comfortable living room furniture. It prioritizes clean, aesthetically beautiful designs that provide flair and comfort.
Q2 How do I choose the furniture for my living room?
 Consider available space, price, and personal style preferences when choosing furniture for your living room, measuring your Space, establishing a budget, and defining your style.
Q3 What are some top furniture designs for a modern and Comfortable living room?
The top 10 furniture designs for a modern and comfortable living room include sofas and sectionals, coffee tables, accent chairs, entertainment centers, bookshelves and storage units, rugs, and carpets, lighting fixtures, wall art and decor, side tables, and throw pillows and blankets.
Q4: What are some tips for arranging furniture in a modern living room?
A: To optimize functionality and aesthetics in a modern living room, consider creating a focal point, maintaining balance and symmetry, ensuring a smooth traffic flow, and following proper maintenance and care routines.
Q5: Are there budget-friendly alternatives for achieving a modern living room look?
A: Yes, there are budget-friendly alternatives. You can explore second-hand furniture options through thrift stores or online marketplaces and get creative with DIY projects to personalize your living room without exceeding your budget.
Conclusion
Your living room is a reflection of your style. By selecting the furniture designs and considering essential factors like space and budget, you can create a modern and comfortable living space for spending time in. Explore our top 10 picks, implement our furniture arrangement tips, and follow our maintenance advice to achieve the living room of your dreams. Your modern, cozy home awaits you!
Other Articles