Get Modern Living Room Decor Ideas that make your Family Comfortable
 The living room decor is the heart of your home. It's more than simply a place; it's a gathering place where your family relationships and memories grow. But how can you make it cozier, happier, and casually fashionable? Our guide is here to help you learn the craft of designing a modern living space overflowing with comfort and ideal for your family's enjoyment.
Small living room decor ideas
When decorating a small living room, advanced decor decisions can make all the difference. Start by choosing pieces of furniture with several uses, such as sofa beds or coffee tables with storage. Light and neutral hues for the furniture and walls can give the room a feeling of airiness, and strategically placed mirrors can reflect light and enlarge the room. With tall bookcases or wall-mounted storage options, make use of vertical space. To maximize flexibility, think about purchasing foldable furniture. Avoid overcrowding and opt for minimalist design, and remember to use innovative storage choices like wall-mounted options and hidden compartments to keep clutter away.
Principles for Modern Comfort
Modern comfort is finding a perfect balance between how something looks and feels. It means having furniture that is both modern and practical. By adopting these living room decor ideas, you'll be well to creating a living room that combines happiness and relaxation. 
Family-friendly living room
When you design a family-friendly living room, functionality is as important as aesthetics. Clever storage solutions help maintain a clutter-free home while advanced charging stations that kept the atmosphere calm. You use both of them for a comfortable and modern living room.
Furniture Designs and Arrangements
Create a seating plan that promotes interaction between family members. Easy movement is made possible by a sensible layout that supports adjustable seating and other options for different activities. The setup is a quiet reading corner or a gathering place essential for creating strong family bonds.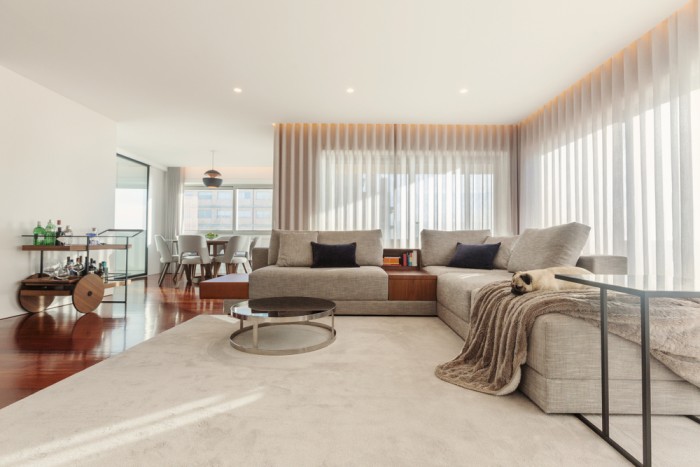 Entertainment Zones: Modern living room decor ideas
Create inviting entertainment living that is specific to your family's relaxation tastes to boost your living room decor ideas. Imagine inviting seating arrangements that provide a setting for favorite nights and engaging game sessions. Include technology in your living room design to achieve a healthy balance between entertainment and relaxation.
Soft and warm textures
When you create a comfortable and inviting living room, there are several essential elements that you should consider. You add soft textures like plush sofas, cozy organizers, and welcoming carpets. They provide an invitation for you to relax and settle in. By using comfortable lighting, you can help create a more comfortable environment for spending time with loved ones.
Unique Touches and Memories
Bring your family's personality into your living area. Display personal images, prized artwork, and meaningful objects that help tell your unique story. DIY design projects that involve the entire family can inspire creativity and create a sense of identity and satisfaction in your home.
Including greenery and nature
As you experience the beauty of greenery and its transforming effects, feel the magic of nature in your living room decor ideas. You may create a calm safety that improves overall aesthetics and air quality by beautifully incorporating indoor plants. Choose low-maintenance plant kinds that easily flourish in a living room setting and combine the beauty of nature with modern decor ideas.
Affordable Modern Ideas
Changing the look of your living room doesn't need to empty your wallet. Discover creative, affordable living room decor ideas that give your area an updated look. Refresh by recycling old furniture, exploring antique stores for stylish and one-of-a-kind valuables, and starting imaginative DIY projects that add character without breaking your budget.
Frequently Asked Questions (FAQs)
Q1: How do I create maximum space in a small living room?
A1: you create maximum space utilization, small living room ideas such as versatile furniture, employing light colors, and considering advanced storage solutions to optimize space efficiently.
Q2: What are family-friendly living room decor ideas?
A2: Invest in practical furniture, embrace clutter-free storage, and integrate charging stations for a serene and family-oriented living room.
Q3: How can I balance modern design with comfort?
A3: You Achieve this balance by selecting Furniture. that is both stylish and functional, creating a space that's visually appealing and comfortable.
Q4: What are the benefits of incorporating indoor plants into my decor?
A4: Indoor plants enhance aesthetics, improve air quality, and add a refreshing touch of nature to your living room.
Q5: Can I revamp my living room on a budget?
A5: Absolutely,  budget-friendly ideas like upcycling furniture, thrift shopping for unique pieces, and engaging in DIY projects to transform your living room without overspending.
Conclusion
The design of your living room, which serves as the heart of your house, should apply these Living room decor ideas for the coziness and peace your family deserves. You create a living area that speaks to everyone by fusing personal touches, modern design concepts, and modern functionalities.
Other Articles