Innovative Home Design Ideas for Creating a Unique Space
Your home is more than a shelter. It is a reflection of your personality and an open door for your imagination. Innovative home design is essential to change your living area into a unique and boosting setting. In this blog, We'll provide a few unique ideas for making your home stand out from other homes.
Understanding basic principles
Before starting an innovative home design, it's essential to establish a plan. Start by understanding your personal style preferences. What colors, themes, or aesthetics resonate with you? Collect inspiration from magazines, websites, and social media platforms like Pinterest and Instagram.
Budget considerations are also essential. Setting a realistic budget and allocating funds for different design elements will help you stay on track without compromising your vision. Keep in mind that high expenses do not represent innovation. Creative solutions can also be cost-effective.
Elements of Innovative Design
Creative Use of Color and Texture
Innovative designs often involve a fresh approach to color and texture. Experiment with unconventional color palettes that reflect your personality and style. Incorporate varied textures to add depth and interest to your space.
Unique Flooring Solutions
The flooring you choose can have an enormous effect on the atmosphere of a room. Consider innovative flooring materials like reclaimed wood, polished concrete, or geometric tile patterns to make a statement.
Innovative Home Design Lighting Concepts
Lighting is a powerful tool for creating an atmosphere. Implement Advanced lighting systems that allow you to control the atmosphere with a touch.
Sustainable and Eco-Friendly Design
Being environmentally conscious is innovative in itself. Choose eco-friendly materials and consider energy-efficient design ideas such as natural ventilation and solar shading to reduce carbon footprint.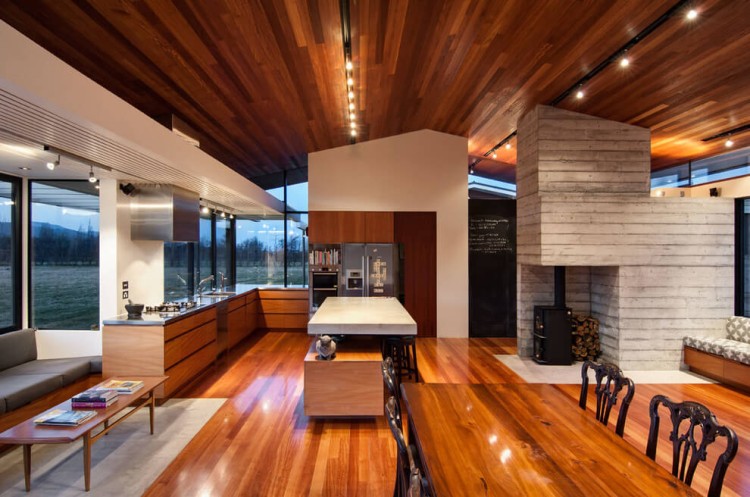 Space Optimization and Multi-Functionality
Open Concept Living
Removing barriers between rooms can create a spacious, flowing feel in your home. Use clever zoning techniques to define different areas within open spaces.
Creative Storage Solutions
Clutter can hide the sense of uniqueness. Maximize your space with hidden storage solutions and modular, flexible storage options that keep your possessions neatly organized and out of sight.
Multi-Functional Furniture
Invest in transformable and adaptable furniture pieces. They save space and serve multiple purposes, making your home more efficient and stylish.
Integration of Cutting-Edge Technology
Home Automation Systems
The future is to arrive with smart thermostats, security systems, and voice-activated home control. These innovative home designs enhance convenience and also boost your home's appeal.
High-Tech Entertainment and Connectivity
Create a home theater setup that rivals the cinema experience. Integrate technology seamlessly into your design to keep your home up to date.
Sustainable and Energy-Efficient Tech 
Harness the power of solar panels and energy monitoring to reduce your environmental impact. Energy-efficient appliances and fixtures also contribute to a greener, more innovative home.
Outdoor and Landscape Innovations
Creative Outdoor Living Spaces
Extend your innovative home design concepts to the outdoors. Create unique outdoor seating and dining areas that enhance your living space. Thoughtful landscaping can add aesthetic appeal and functionality.
Sustainable Landscaping Practices
Consider drought-resistant plants, xeriscaping, and rainwater harvesting to create an eco-friendly outdoor environment. Green roofs and vertical gardens can also introduce innovative elements to your landscape.
Personalization and DIY Projects
Custom Art and Decor: Personalize your space with artwork that speaks to your unique taste. DIY decorative projects are budget-friendly and allow you to infuse your personality into your design.
Upcycling and Repurposing
Give new life to old furniture and accessories through upcycling and repurposing. These projects are eco-friendly and an excellent way to add character to your home.
Frequently Asked Questions (FAQs)
Q1. What exactly is innovative home design?
Innovative home design is an approach to designing living spaces that incorporates creative and modern solutions to make homes unique, functional, and aesthetically pleasing. It involves using inventive ideas, materials, and technologies to transform ordinary spaces into extraordinary ones.
Q2. How can I determine my style for home design?
Discovering your style involves self-assessment and exploration. You can start by gathering inspiration from various sources, such as magazines, online platforms, or even visiting showrooms. Take note of what resonates with you, and gradually define your preferences for color schemes, furniture styles, and design themes.
Q3. Is innovative home design expensive?
Innovative home design does not have to be prohibitively pricey. While certain novel aspects may be more expensive, there are cost-effective alternatives. Setting a reasonable budget and prioritizing where you want to spend on novel features while finding creative and cost-effective solutions elements of the design are essential
Q4. How can I combine environmentally friendly aspects into my creative house design?
Sustainability may be Part of inventive home design. You can utilize environmentally friendly materials such as reclaimed wood, bamboo, or recycled glass. To lessen your environmental impact consider energy-efficient appliances and fixtures with green solutions such as solar panels or rainwater harvesting systems.
Q5. Can I apply innovative home design concepts to outdoor spaces?
Absolutely! Innovative home design can extend to your outdoor areas. You can create unique outdoor living spaces with distinctive seating arrangements, innovative landscaping, and eco-friendly practices. Think of your outdoor space as an extension of your home, and apply creative design elements accordingly.
Conclusion
Home design innovation is more than following the newest trends; it is about creating a space that reflects your personality, values, and lifestyle. You can build a home that is physically appealing, useful, and ecological by adopting these unique design ideas. Your one-of-a-kind living place is within your grasp, just waiting to be created through creative thinking and careful implementation.
Other Articles