Modern Kitchen Accessories: The Perfect Partners for Boosting Interior Design
The kitchen is the "heart of the home" and is more than just a place for cooking. It is an environment where cooking skills and practical design merge into memories. Sometimes, We neglect the significance of kitchen accessories. In this blog post, we will explore the possibilities of these accessories as ideal partners for enhancing interior design. Let us enter a world where aesthetics and functionality coexist. 
Balance of appearance and function 
The essential beauty of accessories is their ability to combine usefulness and design. Consider the stylish look of hanging pot racks that showcase your cookware while saving valuable cupboard space. Also, think about the magnetic knife strips, which keep your knives within reach while adding a modern touch. These items improve the efficiency of your kitchen and add to its overall attractiveness.
Kitchen Aesthetics: Art Style  
Aesthetics has a strong influence on interior design. However, adding beauty to functional rooms such as the kitchen is an art form. In this case, kitchen accessories act as strokes of color on a culinary painting. Consider ornamental cutting boards gracing the wall or colorful utensil holders to add an accent of color to surfaces. These decorations enhance the aesthetic appeal of your kitchen.
Enhancing Your Culinary Space
The kitchen is the rest of the home and should represent the people who live there. Their accessories shine as customizing tools. Monogrammed aprons, personalized mugs, and engraved cutting boards add a personal touch to your kitchen. With these additions, your kitchen becomes a reflection of your preferences.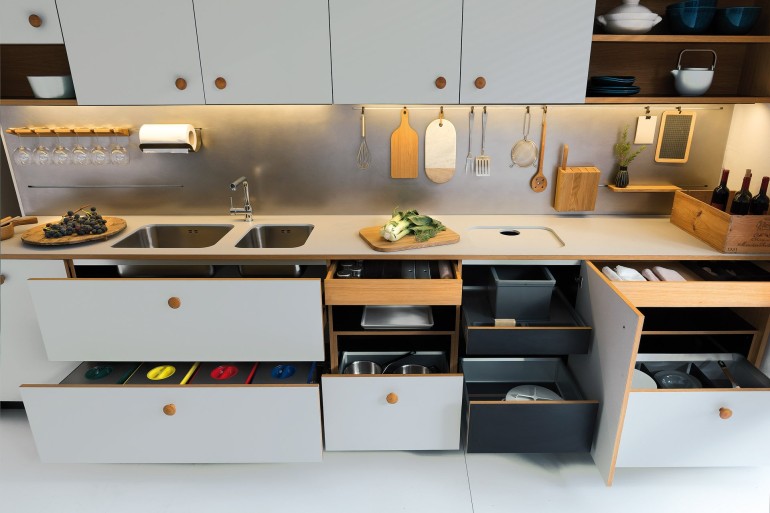 Aesthetics Spectrum: From Old to Modern 
Kitchen accessories offer a wide range of aesthetics, which has significance in interior design. Vintage accessories bring vitality to kitchens and share stories from the past with individuals who value the past. Sleek and modern accessories, on the other hand, naturally merge into current designs, providing a clean appearance.
Using focal pieces to make an appeal
Including kitchens, every attractive space benefits from a focal point. Eye-catching accessories enhance the kitchen look. Consider a chandelier-style pot rack that serves as an art piece or a beautifully patterned backsplash that draws attention. These statement pieces turn your kitchen into a visually appealing space.
The Coordination Power
Kitchen accessories play a significant role in producing an overall look in home design. Color and material matching are essential strategies. You can create a coherent and polished visual narrative by carefully selecting accessories that complement your current design elements.
A Showcase of Functional Kitchen Skills
Aside from aesthetics, accessories improve the functioning of your culinary space. Consider specialized kitchen gadgets, multi-purpose equipment, and ergonomic utensils that enhance the efficiency and enjoyment of cooking. These accessories transform your kitchen into a functional laboratory for your culinary endeavors.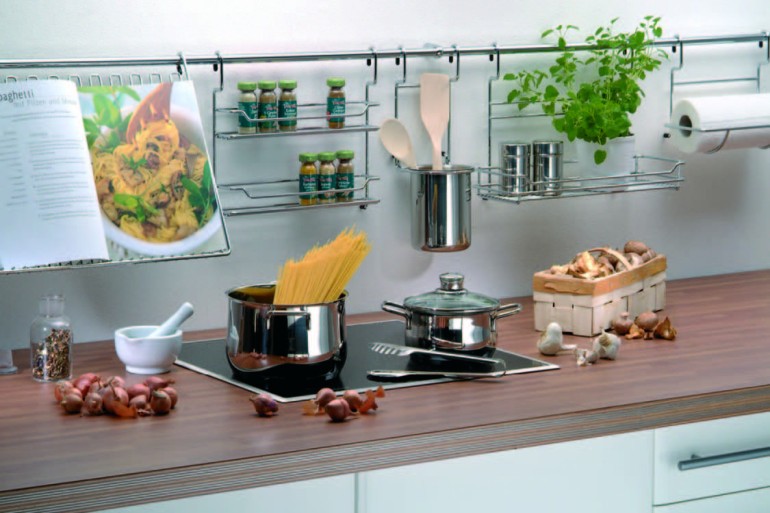 Frequently Asked Questions (FAQs)
Q.1 Why are kitchen accessories significant for the interior design of a kitchen?  
Kitchen accessories aren't just Tools. They are elements that infuse personality and style into your culinary space. They contribute to both the visual aesthetics and the functionality of the kitchen. Well-chosen accessories enhance the interior design by adding color, texture, and a personal touch.
Q.2 How can I strike a balance between aesthetics and functionality with kitchen accessories?
To balance aesthetics and functionality, focus on selecting accessories that serve a practical purpose and enhance the visual appeal of your kitchen. Consider decorative cutting boards, stylish utensil holders, and hanging racks that save space and act as design elements.
Q.3 What are examples of standout focal pieces I can use in my kitchen design?
Focal pieces in your kitchen can draw attention and add a unique touch to your design. Consider eye-catching elements like chandelier-style pot racks, creatively patterned backsplashes, or even uniquely designed light fixtures. These pieces can become the center of attention while enhancing the overall look of your kitchen.
Q.4 How can I ensure my kitchen accessories coordinate well with my design theme?
Coordinating accessories with your existing design theme involves attention to color palettes, materials, and styles. Choose accessories that complement the colors and materials already present in your kitchen. For example, if you have a rustic theme, opt for accessories with wooden or vintage elements.
Q.5 What are functional kitchen accessories that can help improve my cooking experience?
Functional kitchen equipment can improve your culinary skills. Select gadgets that make specific tasks quicker, such as herb strippers or avocado slicers. Multi-purpose instruments, such as a chef's knife, can help to speed up the cooking process. Foldable kitchenware also helps to make cooking more comfortable and efficient cooking.
Conclusion
Kitchen accessories are the notes in the symphony of interior design that form a harmonic melody of beauty and utility. As you realize the full potential of these accessories, your kitchen will transform into a place where beauty meets functionality, and every meal will become a creative project.
Other Articles