10 Fall Home Decorations That Make Your Home Ideal and Warm for the Autumn Season
As summer ends and autumn winds blow, it's a great time to bring the outdoor season into your home. Autumn's brilliant colors, comforting textures, and pleasant feel in your decor make your home attractive. In this article, We will discuss ten simple fall home decorations concepts that will transform your living areas into warm and welcoming havens, preparing your home for the joys of autumn.
Warm Welcome to the Entrance
The journey into autumn starts at your front door. A bouquet full of rustic leaves, berries, and a bow in warm autumn hues greets those who arrive. Consider laying a seasonal doormat with complex leaf patterns that hint at the beauty that awaits inside to enjoy the season. Potted chrysanthemums or ornamental kale flanking your entryway release brilliant bursts of color, laying the groundwork for what comes next.
Cozy Living Room Transformations
As the sun sets earlier and the evenings turn into chill. Your living room transforms into a cold place. Put soft throw blankets on sofas and armchairs, inviting you to snuggle in and feel cozy. Make an attractive home, arrange decorative pillows with leaf designs, rich fall hues, and soft textures. Introduce a rich autumnal area blanket that defines the room and also adds an extra element of comfort. Allow the soft glow of flickering candles to cast a warm, calming environment that encourages relaxation.
Make Dining Area Elegance
Fall Home decorations' beauty will take your dining to a whole new level. The centerpiece, a lovely combination of mini pumpkins, gourds, and delicate candles, takes center stage here. Add a touch of rustic appeal with wooden candle holders or a cozy burlap table runner. Use similar dinnerware, like plates and bowls, in deep autumn shades. Add rustic napkin rings that remind you of the season's cozy feel.
Autumn-inspired bedrooms
As the days become shorter, your bedroom turns into a place of warmth and comfort. Replace your lightweight summer bedding with luxuriant comforters and pillows in warm, inviting colors that reflect the changing leaves outdoors. Layer on ornamental cushions in terracotta, burnt orange. And deep burgundy to create an upscale and calm home.
Fireside Comfort in the Family Room
During the fall season, the fireplace becomes the center of your home, radiating comfort and warmth. Decorative logs placed strategically near the hearth bring the beauty of nature indoors, including a mix of pumpkins, flickering candles, and link-dried foliage. You can create a stunning mantel display. Comfy seating around a fireplace invites personal chats and storytelling evenings by the fire.
Seasonal touches in the cooking area
Bring the flavors and colors of fall into your kitchen. Replace ordinary dishware with pieces in warm, inviting tones to add a touch of the season to your kitchen. To fill the space with the feeling of autumn, hang a fall-themed towel over your oven handle and a leafy garland along your windowsill. A dish of crisp apples or pears becomes both a visual treat and a healthy one.
Outdoor decoration
Bring the warmth of your fall home decorations outside, making them into a welcoming Place With cozy outdoor chairs and soft, weather-resistant pillows. You can transform your patio or porch into a comfortable haven. Welcome guests with an autumn decoration greeting on your door, and add to the setting with string lights that give a soft glow, providing a lovely scene for nighttime events.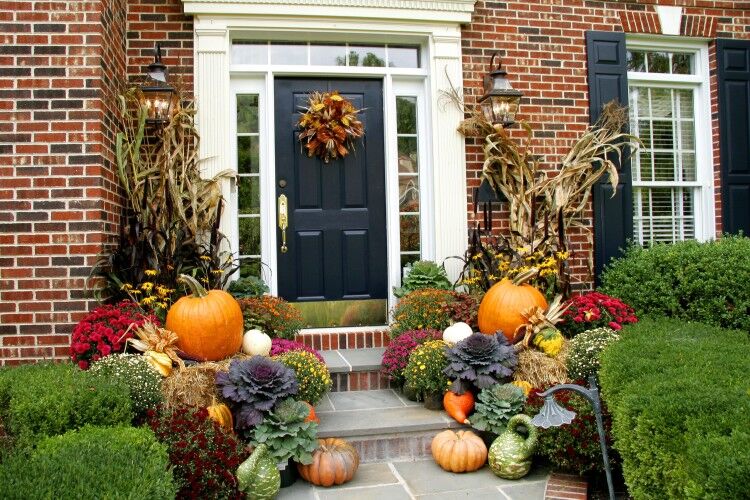 Nature-touched Wall Art
Hang frames of leaves in different sizes, hues, and forms to create a dramatic wall display that mimics nature. Consider investing in local botanical prints that show the season's flowers for a touch of style, instantly filling your living spaces with the peace of nature's artwork.
Magical Core Displays
The core changes into a blank space for your autumn creativity. Create a fascinating focal point by arranging a symphony of pumpkins, candles, and fall garlands. Experiment with different heights and textures to create a dynamic appearance.
Whimsical Windows and Window Seats
Windows frame the changing environment outside, And the fall season is the ideal time to dress them up. Hang curtains in warm, inviting colors that accent the season for an added layer of comfort and style. Convert your windowsill into a comfortable seat by adding plush cushions, soft blankets, and ornamental pillows. It's a hideaway for daydreaming, reading, and watching the leaves fall in the breeze.
Frequently Asked Questions (FAQs)
Q 1. How can I make my entryway more welcoming for the fall season?
Enhance your entryway with a fall wreath adorned with rustic leaves and berries. Lay out a seasonal doormat featuring leaf patterns. Consider placing potted chrysanthemums or ornamental kale on either side of your entryway to add vibrant bursts of autumn color.
Q 2. Easy ways to create a cozy living room for fall? What are some e
To create a comfortable living room, drape soft throw blankets on sofas and armchairs, encouraging snuggling. Arrange decorative pillows with leaf designs and rich fall hues. Introduce an area rug in warm autumn tones and light up the room with the soothing glow of flickering candles.
Q3.How can I decorate my dining area to capture the essence of fall?
Elevate your dining area with fall-inspired Elegance By using similar dinnerware in deep autumn shades. Create a centerpiece with mini pumpkins, gourds, and candles. Add a touch of rustic charm with wooden candleholders and a burlap table runner. Use rustic napkin rings to complete the cozy feel.
Q4.What are some ideas to make my bedroom warm and inviting during the fall?
Transform your bedroom into a cozy retreat by replacing lightweight summer bedding with warm comforters and pillows in inviting colors. Layer on ornamental cushions in fall shades like terracotta or burnt orange. And deep burgundy for an upscale and comforting atmosphere.
Q 5. How can I bring the beauty of fall to my outdoor spaces?
Extend your fall home decorations outdoors by creating a comfortable oasis on your patio or porch with plush outdoor seating and soft pillows. Welcome guests with a fall-themed wreath on your door, and add string lights for a magical night time atmosphere.
Conclusion
The ten fall home decorations ideas we will cover for the changing world outside. As you greet each visitor, relish every moment by the fire, and gather around your table, you'll discover that your home is beautiful and warm and a living witness to the beauty and wonder of autumn.
Other Articles