Cozy Reach: Enhance your interior design with Wall Hanging Mirror in Your Interior Home Design
In modern times, your home should be a haven, A Place where you can unwind, relax, and get away from the stresses of everyday life. Achieving a pleasant and inviting atmosphere is necessary for home design, and wall hanging mirrors are an effective tool that significantly adds to this atmosphere. In this blog, we'll check out how wall hanging mirror may improve your interior home design, create a sense of cozy comfort, and make your area appear larger and more beautiful.
Cozy Interior Design
Cozy interior design is an art form that focuses on creating an environment that makes you feel calm and comfortable. It's about filling your atmosphere with warmth, harmony, and a personal touch. Consider soft, inviting textures, soothing color palettes, and a general sense of calm.
Hanging wall mirrors for the bedroom
Hanging wall mirrors for the bedroom involves placing mirrors on bedroom walls to enhance aesthetics, increase natural light, and create the illusion of more space. They serve practical functions for grooming and dressing, often in full-length designs. These mirrors can also act as decorative focal points with various frame styles. And some offer storage solutions. They combine style, functionality, and space optimization in bedroom interior design.
Wall Hanging Mirror Variety
The adaptability of wall hanging mirror makes your home cozy and reaches its full potential. These mirrors are available in several styles, shapes, and sizes and are suitable for almost any home interior design. Whether you buy modern, eclectic, traditional, or minimalist aesthetics, these mirrors will enhance your home, adding a touch of cozy reach that transforms your living space.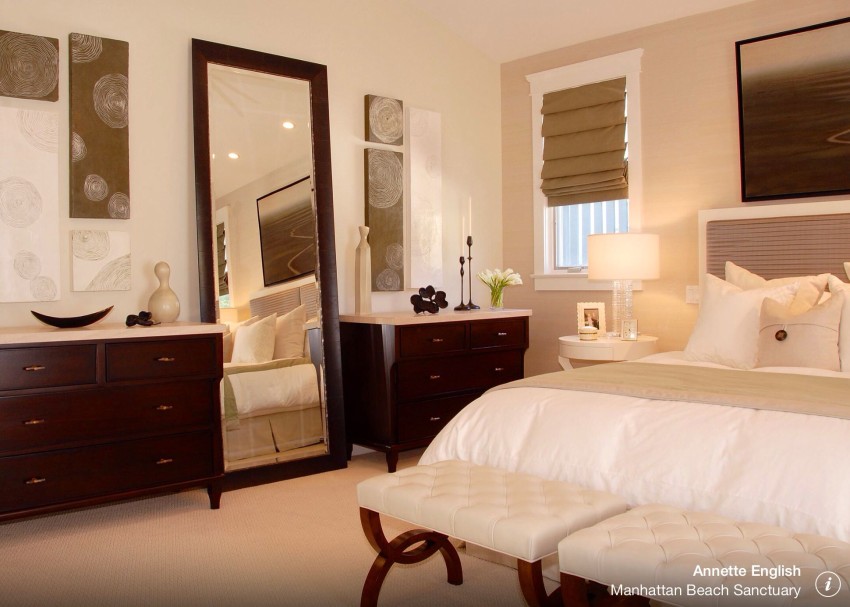 Maximizing natural light
Mirrors are adept at capturing and amplifying natural light. It is a cornerstone of creating coziness. When placed strategically, mirrors can bounce sunlight into the darkest corners of a room, instantly brightening the atmosphere. It also adds a cozy factor and the need for artificial lighting, making your home more energy-efficient.
Creating the Space Illusion
Mirrors' ability to create the illusion of space is one of their magical abilities. It is a game changer for smaller homes with limited square footage. Mirrors strategically placed can make your area appear larger and more airy, adding to the overall warmth of your home.
Adding style and elegance
Wall hanging Mirrors are  Functional and fantastic decorative pieces. With an endless array of frame styles available, from ornate and antique to sleek and modern, the right mirror can become a captivating focal point in your room. It adds a touch of elegance and style that elevates your interior design.
Mirror maintenance and care
To ensure that your wall hanging mirror continue to enhance the coziness of your home. Regular maintenance is essential. Dust and smudges can dull their reflective surfaces, so it's important to keep them clean regularly and wipe them down with a glass cleaner to maintain their sparkle.
DIY mirror projects
For those who are creative, why not create a DIY mirror project? Customizing mirrors allows you to infuse your personality into your interior design. From crafting unique mirror frames to adding personal touches, There are many choices and an opportunity to make your home truly yours.
Choosing the Right Mirror for Your Home
When selecting wall hanging mirror for your home, consider several factors such as size, style, and placement. Matching mirrors with your existing décor is essential to creating a cohesive look that enhances the overall coziness of your space. Fortunately, there are options to suit every budget.
Frequently Asked Questions (FAQs)
Q.1 Can you recommend specific placements for wall hanging mirror to maximize their impact on natural light and the illusion of space in a room?
To maximize natural light, Place mirrors on walls adjacent to windows or opposite them to reflect incoming sunlight. Consider installing mirrors in areas with limited light penetration, such as hallways or small rooms. To create the illusion of space Position, mirrors across each other in smaller rooms, allowing the reflection to bounce back and forth. In larger rooms, place Mirrors on walls perpendicular to the main line of sight to add depth and dimension.
Q.2 What DIY mirror project ideas beginners can try to customize mirrors for their homes?
Beginners can start with simple projects like adding adhesive decorative decals or using washi tape to create patterns on the mirror's surface. Another easy idea is framing an unframed mirror with molding, which cuts to size at a hardware store.
Q.3 Are there any specific mirror styles or frame designs that work better for certain interior design themes, such as modern, minimalist, or vintage?
For modern and minimalist themes, sleek and frameless mirrors with clean, simple lines work well. Vintage or antique styles  enhanced with vibrant, artistic frames that reflect the design views of the era.
Q.4 How do I clean and maintain wall hanging mirror properly to ensure they continue to look their best over time?
Regularly dust the mirror's surface with a soft, lint-free cloth to prevent dust and dirt.
Use a glass cleaner or a mixture of water and vinegar to clean smudges and fingerprints. Spray the solution onto the cloth, not directly on the mirror to avoid streaks.
Q.5 Can you provide tips for choosing the right-sized mirror for different rooms and spaces within a home, like bedrooms, living rooms, or entryways?
Hanging wall mirror for the Bedroom Choose a full-length mirror is often preferred for dressing and checking your appearance. Ensure it's tall enough to capture your entire reflection.
Wall mirrors for living rooms are considered medium-sized mirrors that complement the room's size and style. Position it strategically to reflect attractive elements, like artwork or a focal point.
Entryways can benefit from mirrors to create an impression of openness. A tall, narrow mirror can be ideal for checking your appearance before leaving the house.
Conclusion
Incorporating wall hanging mirror into your interior home design can be transformative, enhancing your living space's cozy reach and comfort. Their ability to utilize natural light, expand the perception of space, and add style which makes them a valuable addition to any home. Why wait? Begin exploring mirror options and elevating your living space into a cozy haven today. Mirrors are not just reflective surfaces. It is a gateway to a more comfortable and inviting home.
Other Articles